Volunteer Maritime Search & Rescue
Sumner Lifeboat Institution is on call to rescue people and boats in difficulty on the water around Banks Peninsula and Pegasus Bay.
Our highly trained and qualified volunteer crew members are prepared for attending rescues in the daytime or at night.
This vital service depends on people – see our crew and training pages to learn more about our great volunteer team.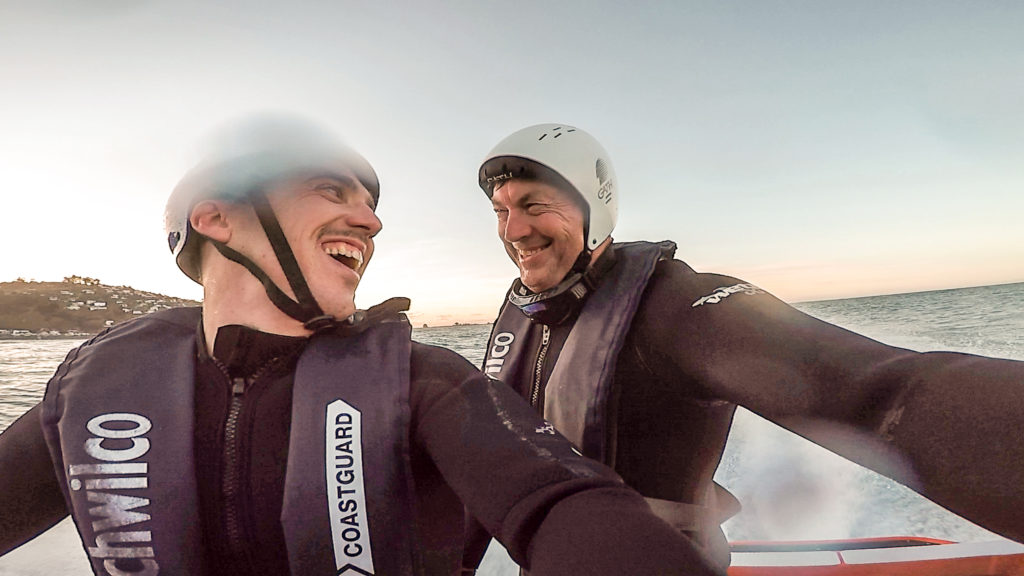 Our Mission Statement
to preserve life at sea

to operate a marine rescue service for the benefit of all in the inshore and offshore waters of Canterbury

to offer in a co-operative manner a volunteer marine rescue service to the appropriate authorities and other rescue organisations

to promote and help advance public awareness in all aspects of safety at sea.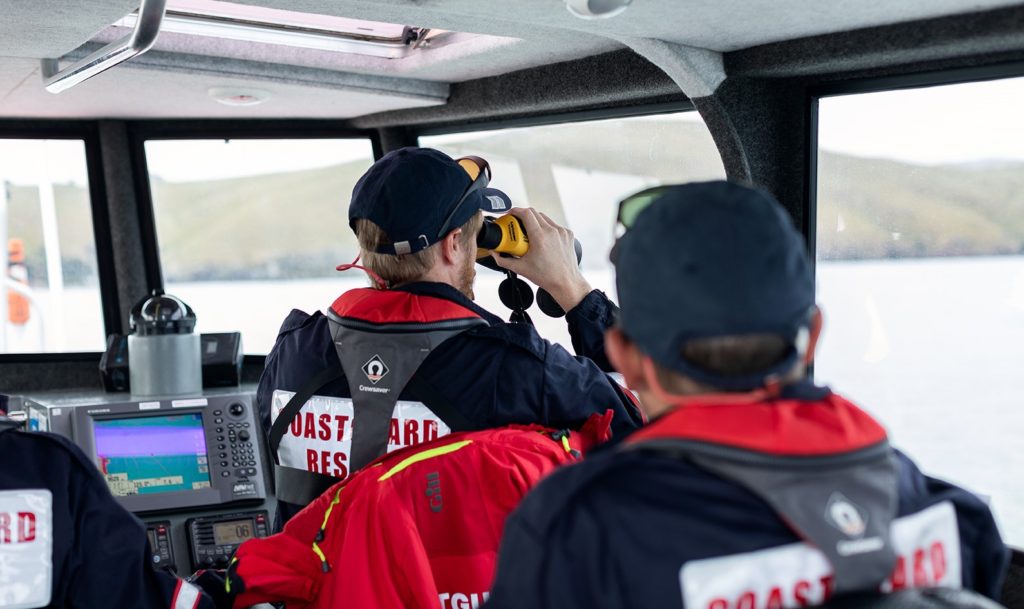 Sumner Lifeboat Institution Inc is one of the longest-surviving lifeboat organisations in New Zealand. Our history goes back to the 1870s, when a small group of locals rowed their dinghies out to rescue passengers and crew on sailing ships in trouble crossing the treacherous Sumner Bar.
Today, we have three specialist vessels which make use of modern technology:
Blue Arrow Rescue is a twin jet, 12.5m boat capable of going offshore and travelling a long distance. Blue Arrow Rescue has undertaken larger-scale search and rescue activities such as medivacs from fishing vessels and assisting disabled yachts. It has a cruising speed of 25 knots.


Hamilton Jet Rescue is a single engine jet boat, which primarily operates in the surf zone and up to 5.8 nautical miles from shore.

Urquhart Trust Rescue is a single engine jet ski, specially designed for operating near the shore, in the surf and over a small geographical range.
We are a Charity
We are a non-profit organisation, and a registered charity. We rely on donations, grants and bequests to fund our operation.
We'd love to hear from you and keep you in the loop on Sumner Lifeboat's activities.
How We Get Called Out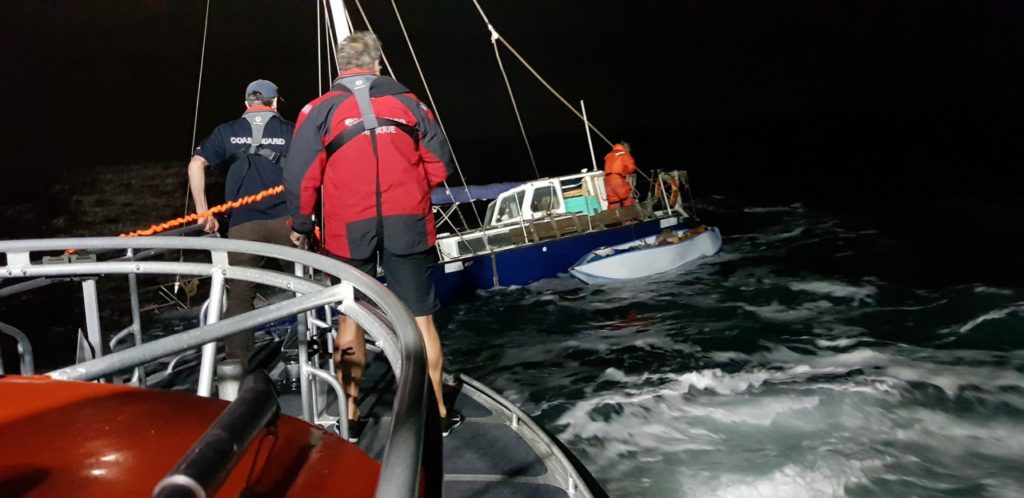 Our call-out alarm is initiated by the NZ Police Communications Centre in response to a call from a member of the public, other Coastguard units and rescue services, or a Mayday call from a boat in difficulty.
Our Lifeboat Station siren sounds for one minute in an undulating pattern, during daylight hours. At the same time, and at night, our crew receive a pager alert.
Sumner Lifeboat Institution works closely with Coastguard New Zealand, NZ Police Search and Rescue, and the Rescue Co-ordination Centre New Zealand (RCCNZ) throughout a rescue.
Sumner Lifeboat & Surf Life Saving – what's the difference?
People often confuse Sumner Lifeboat Institution with Surf Life Saving. They are two independent organisations, with complementary roles in saving lives on the water.
Surf Life Saving clubs operate from beach headquarters at specified periods, on marked areas of the beach. They typically use surf skis and inflatables to patrol and carry out search and rescue operations within the inshore beach limits.
Locally, Sumner Surf Lifesaving Club and Taylors Mistake Surf Life Saving Club patrol their respective beaches.
In contrast, Sumner Lifeboat Institution is an on-call rescue service that covers a continuous 4500km2 area from just north of the Hurunui River outlet to south of Banks Peninsula, and 12 miles out to sea.
The operational area of the Sumner lifeboats is shown on this chart.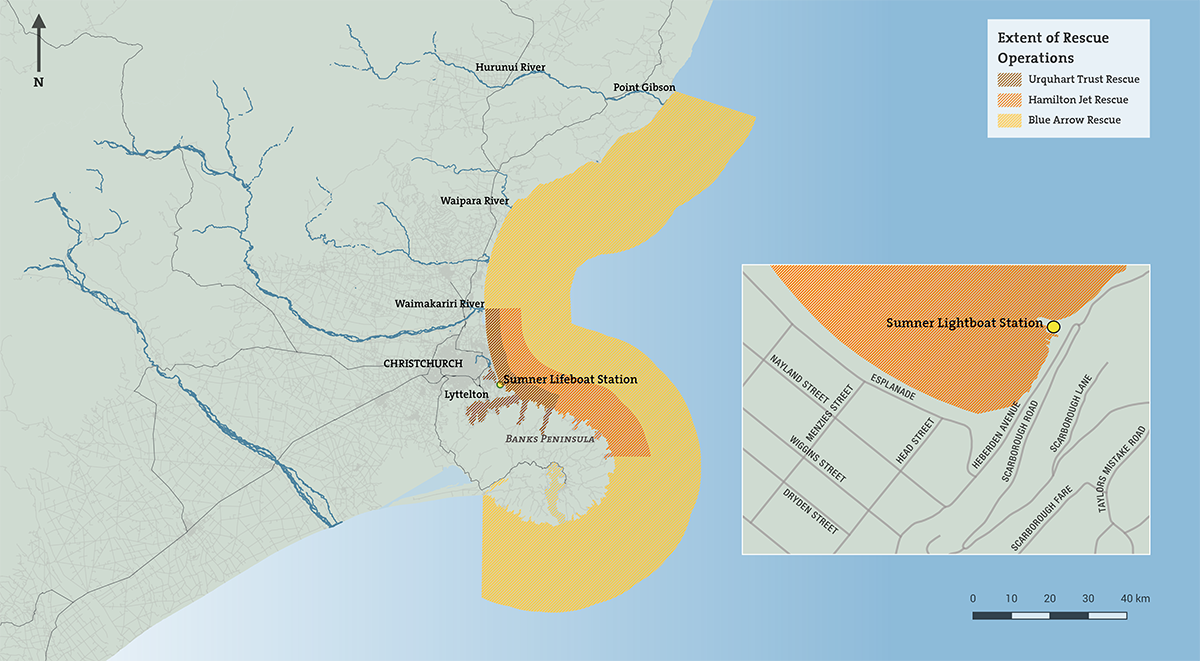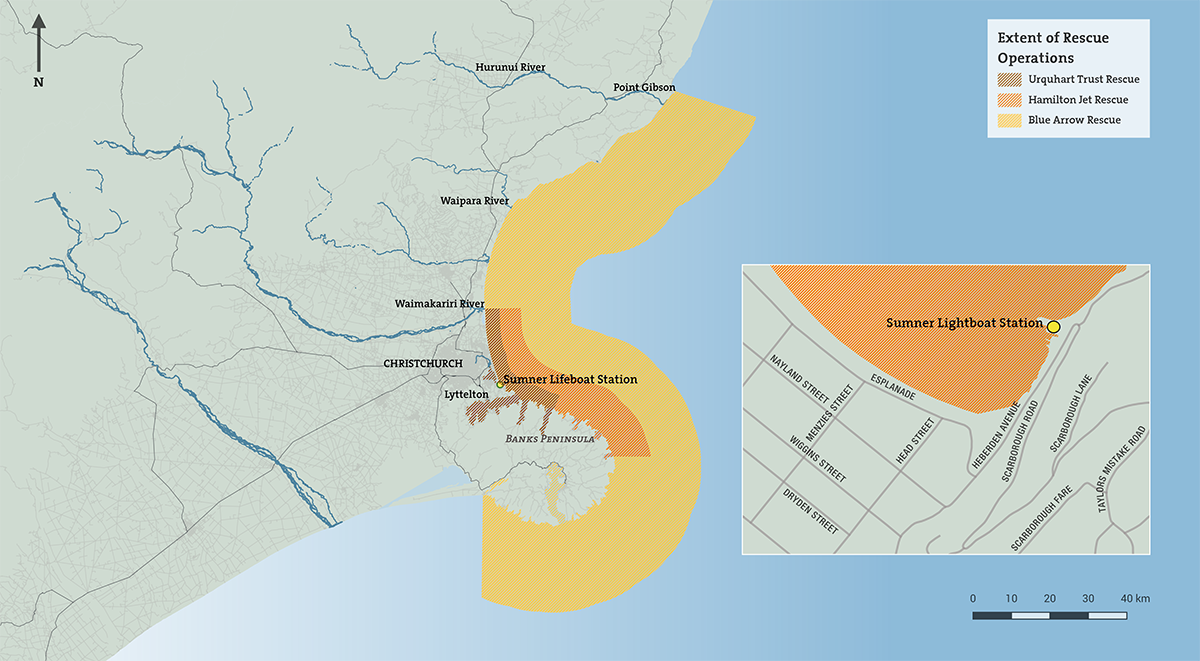 Sumner Lifeboat Institution and the Surf Life Saving clubs sometimes are both involved in a search off a local beach, and carry out joint exercises from time-to-time.
Coastguard NZ
Our organisation is a founding and active member of Coastguard New Zealand, and helped to set up Coastguard Southern Region (one of four regions nationally).
Sumner Lifeboat Institution also works with Coastguard Canterbury, based in the port of Lyttelton, and Coastguard North Canterbury (formerly Waimakariri-Ashley) based at Kaiapoi.