IN EMERGENCY DIAL 111 AND ASK FOR POLICE
If in doubt, always report an incident – delaying may mean a life is lost.

Sometimes we are called out then 'stood down' because it turns out to be not an emergency. That's OK – it's always better to be safe than sorry.
This page summarises recent call-outs and rescues. We are usually busy in the summer and quiet in the winter months.
15 November 2019
11:40 – Called out by Police to attend small boat with 6 persons on board that had lost power between Taylors Mistake and Sumner. It required a tow so Blue Arrow Rescue was launched. The boat, an aluminium dinghy with an outboard, was quickly recovered and towed to Sumner, with everyone safely transferred to shore. Many thanks for the assistance of the Taylors Mistake & Sumner Surf Live Saving clubs in supporting the recovery in their IRBs.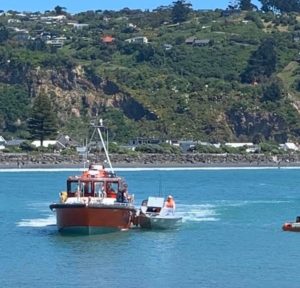 10 November 2019
17:11 – Called out by Police to search for two missing persons off a boat near Godley Head. Blue Arrow Rescue and Hamilton Jet Rescue were launched, and Coastguard Canterbury launched from Lyttelton. The search was joined by the rescue helicopter. Nothing was found and the searchers were stood down – a false alarm.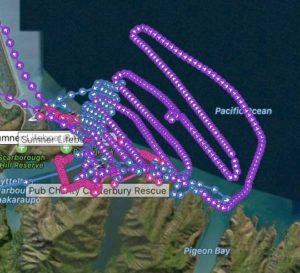 The image is from our tracking system, and shows the search patterns of the vessels and helicopter.
30 July 2019
17:30 – called out by Police, a member of the public had reported a possible upturned paddleboard near the estuary causeway. Hamilton Jet Rescue was launched to investigate. The sighted object was a log and the vessel returned to station.
20 July 2019
17:05 – Blue Arrow Rescue was tasked to search and tow a 35ft yacht in distress south of Motunau. This was a 10hour night mission along with North Canterbury Coastguard.


Read more about this rescue.
31 May 2019
12:34 – called out by Police to assist a jet ski with a craypot line jammed in its jet pump, drifting 5 metres off Godley Head. Crew responded with Hamilton Jet Rescue and Southern Trust Rescue. The jet ski with driver were found and taken under tow and the craypot was left undisturbed.
17 May 2019
11:44 – Called out by Police due to reports of a vessel on fire 2 nautical miles off the Estuary mouth. Crew responded with Hamilton Jet Rescue and Blue Arrow Rescue. On further details from the Police, Blue Arrow Rescue was sent 10Nm offshore to investigate a wider area, due to no vessel found at the first location. Police stood the Lifeboat down at 3:50pm after no further contacts were found.
12 February 2019
11:45 – Police called us out as a surfer had broken their legrope, lost their surfboard and was attempting to swim to shore. Hamilton jet rescue retrieved the surfer and returned him to shore.
17:30 – A swimmer was picked up in the middle of Sumner Bay by Hamilton Jet Rescue crew and returned to shore.
11 February 2019
17:45 – A member of the public called us out as a woman swimmer had been swept out in the Clock Tower rip beside the Lifeboat Station. Hamilton Jet Rescue retrieved the swimmer and also searched for a missing surfer.
09 February 2019
08:35 – A member of the public noticed a kayaker who had fallen out of their kayak and was washed up under Whitewash Head. Hamilton Jet Rescue picked up the kayaker and returned to shore at 0900.
03 February 2019
08:00 – Coastguard call out to a powerboat broken down off Akaroa Heads. Blue Arrow rescue responded. A local tour boat towed the stricken vessel and Blue Arrow rescue returned to station by 0900.
02 February 2019
12:00 – A parapenter was in trouble on the cliffs above Taylors Mistake. He made it down to the water level. Hamilton Jet Rescue was launched, picked up the person and dropped him off at the beach in Taylors Mistake.
28 January 2019
16:02 – RCCNZ called us out to attend a yacht upturned off Godley Head. Blue Arrow Rescue discovered that this was the remains of the yacht that had been abandoned last week.
22 January 2019
01:00 – RCCNZ called us early in the morning to assist a lone sailor whose yacht was sinking south of Banks Peninsula. Blue Arrow Rescue was launched with four crew. After a three hour night-time journey in heavy seas Blue Arrow Rescue located the yacht. The sailor had to transfer to the lifeboat and abandon his yacht. Apart from extended lack of sleep, he was otherwise healthy.
Read more about this challenging rescue.
02 January 2019
2134 – A person was reported missing in the water at Taylors Mistake, so Blue Arrow Rescue was launched but shortly thereafter the search was called off.