We need your help so we can continue saving lives at sea!
Our all-weather rescue vessel, Blue Arrow Rescue, needs new engines and drive systems. It's currently off the water pending fitting of the new gear.
We've set a target of $60,000 by mid-December 2021 to help fund the new engines and associated equipment.
We're now asking for donations towards this target.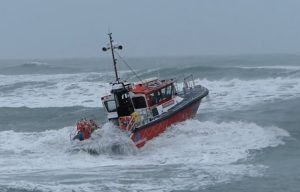 What's the story?
Our volunteer crew need our all-weather vessel to handle tough conditions any time of day or night. Reliability is paramount and precision handling critical in rescue situations.
Blue Arrow Rescue was off the water due to an engine issue. It was decided to look to the future and replace and upgrade the current engine and drive system rather than repair.
The new setup will enable our rescue vessel to continue in service for the next 15+ years.
It will deliver extended reliability, more power, fuel efficiency and improvements to the boat's handling.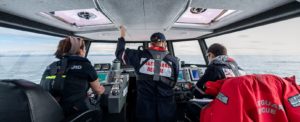 When the call goes out in the middle of the night, Blue Arrow Rescue's volunteer crew will be propelled by the latest engines and technology, helping keeping them safe on their mission to save lives at sea.
How can you help?
Make a donation now using our online payment facility
Make a donation now using Internet banking –
Our bank a/c: Sumner Lifeboat Institution Inc, A/c 03 0855 0358921 00
Please email us to say you've donated – so we can acknowledge you and send a receipt
Spread the word – tell your mates!
Not sure? Want to learn more? Please talk to us.
We can explain about the volunteer search & rescue service we operate. We can give you a tour of our facilities so you can see for yourself.
If you'd like to discuss sponsorship options, that's on the table too – any donation needs to work for both parties. Some donors wish to remain anonymous, others would like recognition of their contributions to our organisation and our local community.
Please contact board members Howard Nicholls, 027 545 9105 or Christine Toner, 027 433 9598 if you'd like to learn more.
What's the funding situation?
The engines and equipment come with a big bill, and there's a funding shortfall.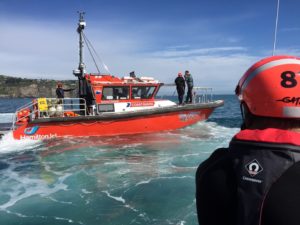 Although it's a unit of Coastguard New Zealand, Sumner Lifeboat is an independent charity and must cover its own costs. Its crew are all local volunteers who freely give their time to be on call 24×7.
To date, Sumner Lifeboat has gratefully received donations from funding bodies and a financial contribution from Coastguard's capital fund towards the project.
To fully fund the project, Sumner Lifeboat is asking for donations towards our target of $60,000. All donations, small or large, are gratefully received.
Why is Blue Arrow Rescue important?
Blue Arrow Rescue plays a vital role in saving lives at sea. It's used to cover a huge search area, from the mouth of the Hurunui River to south of the Banks Peninsula, and 12 miles out to sea.
A memorable rescue with Blue Arrow Rescue was in 2019, when Sumner Lifeboat was called out at 1:00am to search for a sinking trimaran yacht south of the Banks Peninsula.
Contact us for more info
To learn more about the fund raiser and the vital role Sumner Lifeboat plays in saving lives at sea, contact board members Howard Nicholls, 027 545 9105 or Christine Toner, 027 433 9598. Thank you!