14 August 2021 @ 11:12am – Called out to rescue a capsized sea kayaker in surf beyond the Avon/Heathcote Estuary mouth.
Time was of the essence as the kayaker only had light clothing and was immersed in winter-cold waters. Hamilton Jet Rescue was launched quickly and the young man in the water was located soon after by our crew. He was taken aboard our rescue vessel and brought to Christchurch Yacht Club.
The crew had used their VHF radio to request an ambulance, and whilst it was on its way the crew wrapped the patient in blankets and helped warm him up.
The patient was hypothermic and also seemed to have ingested saltwater. Happily after a few hours in hospital he made a full recovery.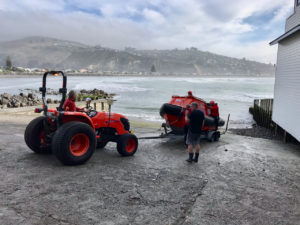 This was quite a close call – cold water rapidly cools the body and it was a few minutes before the alarm was raised. Fortunately we had some crew on-station already so we effected a very fast launch and he was quickly found.
Stuff also published an article about the incident.
The kayaker's friend later messaged us: "I can't thank you all enough for rescuing my friend today at Sumner when we got into trouble kayaking. I will be eternally grateful." The kayaker and his family have also expressed their thanks to us.