After a major upgrade, Blue Arrow Rescue is back on station and ready for action.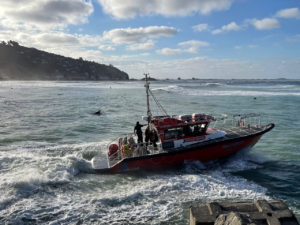 The three month refit involved new engines, drive system mods, new navigation systems and VHF radio comms gear.
Blair Quane, Sumner Lifeboat President, commented recently, "Blue Arrow Rescue underwent her sea trials today and exceeded expectations. The repowering was a success without any issues which is a credit to the installers. The Senior Crew and I are very impressed with her performance gain and updated tech."
So far this summer under its new power, Blue Arrow Rescue has towed a 50-tonne vessel with hydraulic failure to the repair dock as well as supporting Coastguard Canterbury on a job, assisting with the tow of a vessel in difficulties near rocks.
It's been a big engineering project. Many thanks to Tim Barnett Offshore Design, Stark Bros and Hamilton Jet for making it all happen.


And also many thanks to Blair Quane for managing this very time consuming project on top of his day job, plus the senior crew who have contributed their expertise throughout.