25 July 2021 @ 12:44pm – Sumner Lifeboat was called out by the Police to attend to a crashed hang glider beneath Whitewash Head.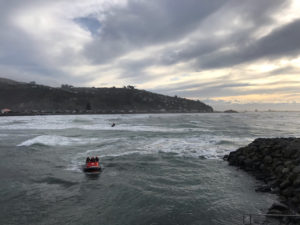 Hamilton Jet Rescue and Urquhart Rescue Trust were launched with six of our most experienced crew. Quickly locating the scene, three crew swam ashore to assess and attend to the casualty.
Meanwhile, aerial reconnaissance was conducted by a non-winch rescue helicopter, followed by a winch-equipped rescue helicopter with paramedic for the actual rescue.
The helicopter paramedic was lowered to the casualty who was assessed and then winched up and flown to Christchurch Hospital for treatment. Fortunately the casualty was conscious and was able to stand up to assist their rescue.
When the hang glider pilot was winched to safety and hospital, that wasn't the end of the mission.
The three crew who attended to the casualty were still ashore on the rocks near the crash site. They had to be safely extracted before the weather further deteriorated.
The extraction was carefully planned between the boat and the crew on the rocks.
In the video Dave Passmore, our senior medic, is aboard Hamilton Jet Rescue having already swum from shore to the boat. Tom Denman and Blair Quane are seen in the water swimming and getting aboard.
A tricky scenario but we train for this, and it's one reason we wear all that PPE.
This was a demanding rescue with an injured casualty, increasing strong onshore winds, an incoming tide and a nasty 1-2m swell onto a rocky shoreline with cliffs above. The Sumner boat crew were supported by a 10-person shore team carrying out launch and recovery, communications and coordination tasks.
It was also a multi-agency response coordinated by Police, with Sumner Lifeboat and the rescue helicopters from GCH Aviation – Garden City Helicopters on scene plus Sumner Volunteer Fire Brigade and ambulances on standby at Taylors Mistake.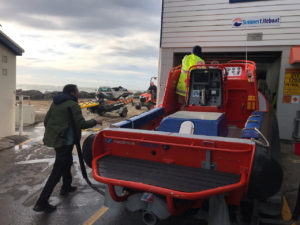 Thanks also to Taylors Mistake SLSC for use of their premises as a coordination centre.
It's rescues like this one where all that training comes into play and teamwork is paramount both within the unit and with other agencies. Well done everyone involved.