Congratulations to Heather McDonald! In early April she was revalidated as a Coastguard Rescue Vessel skipper (officially called an ISC Master).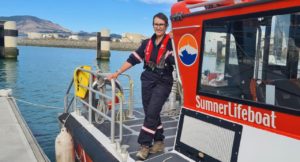 It's a rigorous assessment that has to be done every 5 years to ensure the skipper of the vessel is still meeting the required standards.
Heather has been a crew member at Sumner Lifeboat for 25+ years and she has donated thousands of hours of her time to training and attending rescues. Huge dedication, all as a volunteer – thank you Heather.