2020 in review: a relatively quiet year, with 28 callouts, including several at night or at dusk.
All incidents could have had serious consequences. They were a mix of surfers or boarders in big seas, broken down boats and missing persons. Our volunteer crew always responded rapidly, with typically 10-12 boat and shore crew arriving to help out.
Many thanks to locals who played a vital role throughout the year in informing us of surfers in difficulties.
The lower callout rate was partly due to Covid lockdowns March-May and cooler weather in December reducing the holiday crowds.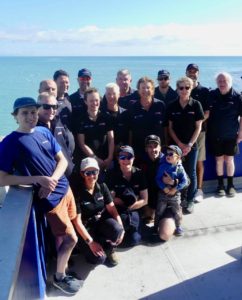 In crew news, John Atkins achieved a milestone 25 years of Coastguard Service, Blair Quane was revalidated as a Coastguard skipper, 2 crew achieved senior operational status, 4 crew moved from trainee to operational status, 3 crew passed radio operator exams and 4 people joined as new trainees.
At the start of 2021 we are in a great position to continue our 24×7 volunteer rescue service, with a strong complement of crew and all vessels in good order.
As a charity, we couldn't do this without our supporters.
Huge thanks to our donors large and small – in these Covid times every dollar counts we are very grateful to receive support so we can continue our mission to save lives at sea.
Have a look at our
donation page
for other ways to support us too. Thank you!