The first quarter of 2021 was themed on working with other rescue organisations – Coastguard units, Surf Life Saving NZ, and Sumner Fire Brigade.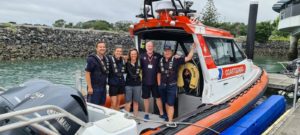 January heralded the America's Cup challenger series and brought a special treat for crew members Camilla Gibbons, Patrice de Beer & Yvonne de Beer. They were guest crew on Coastguard Auckland and Coastguard Howick's rescue vessels, on patrol during the racing series.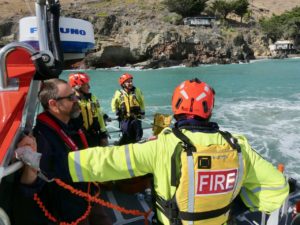 They came back with tales of exciting racing and wonderful hospitality by fellow Coastguard units.
March kicked off with a combined training exercise with Sumner Volunteer Fire Brigade. The Fire crew set up their pump and hoses on Blue Arrow Rescue and we transported lifeboat and Fire crew to Boulder Bay to attend to a simulated fire and a burns victim.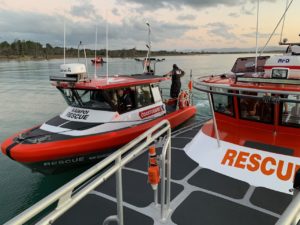 A few days later we held a joint exercise with Coastguard North Canterbury, who are based in Kaiapoi, to search for an overdue jet ski last seen off the Waimakariri river mouth.
The following weekend was busy too – we were on the water with Surf Life Saving crew from around the South Island, helping with their training of intermediate lifeguards and teaching them about the capabilities of our vessels and crew.
The next day Sumner crew took part in the City2Surf run/walk along with crew from Coastguard North Canterbury (Kaiapoi), Coastguard Canterbury (Lyttelton) plus staff from the regional Coastguard office.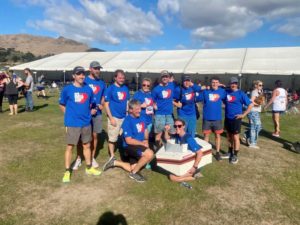 Events like these help build bonds between crew from different volunteer rescue organisations. When the pressure is on during a joint emergency, understanding how other units operate and knowing some of their crew personally helps get the job done effectively.
Everyone involved is a volunteer – hats off to them all for helping keep our local community safe.