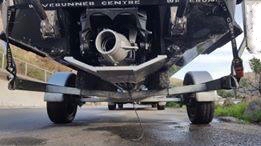 Friday 31/05/19
12:34pm – Sumner Lifeboat was tasked by the Police to assist a jet ski that had no power and was drifting just a few metres off Godley Head. The jet ski driver had been retrieving a crayfish pot but had sucked the pot line into the jet ski's pump, effectively disabling it.
Sumner Lifeboat dispatched Hamilton Jet Rescue, our jet boat, and Southern Trust Rescue, our jet ski. After a brief search the disabled jet ski and its driver were located drifting just off Godley Head. The jet ski was towed back  to the ramp beside Sumner Lifeboat station and the driver was assisted with getting his jet ski back on its trailer and warming up!
Getting lines tangled in intakes or around props is easy to do  – always keep a close look out for drifting lines and approach with caution.